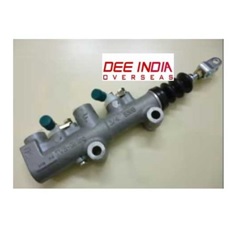 MASTER CYLINDER (TVS-King)
We are leading exporter of Three wheeler and Motorcycle Parts. Ours is ISO 9001:2015 Company and we are part of reputed, more then 40 year Old Business Group. We offer full range of parts for Bajaj, TVS, Honda, Hero, LML,  Yamaha, Ape Piaggio and Almost all Indian Three wheeler and Motorcycle.
Our own manufacturing is Engine parts, and we produce Engine Valve, Cam Shaft, Rocker Arm for Range of Indian Motorcycles, and Three wheelers. Apart from our own product we procure almost all A to Z parts for Indian Motorcycle and Three wheelers from reputed manufacturers of India and Exports.  We have strong quality command in each product with our strong inspection system.
---